Elise's Drop Sugar Cookies
December 14, 2016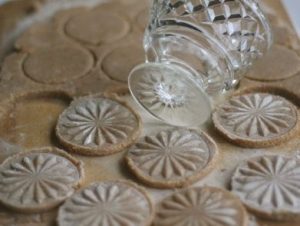 It's time to think ahead to Holiday celebrations! The Bush family loves to gather from all around Nashville and celebrate the holidays together. We each have our own things we like to make for the celebrations, and for the younger ones in the family, it's all about the sweets! Here's a simple recipe for great sugar cookies from the Bush family.  We like to press a pretty glass into the sugar cookies to create a design before adding sprinkles or sugar..
2 ½ cup all-purpose flour
1 teaspoon baking powder
1 teaspoon salt
1 cup butter, softened
1 ¼ cup sugar
1 large egg
1 teaspoon vanilla
sprinkles
Sift together flour, baking powder and salt. Set aside.
Cream butter and sugar together with an electric mixer. Beat in egg and vanilla.
On low speed, beat in flour mixture, mixing only until all flour incorporated. Refrigerate dough 1-2 hours. Bake 8-12 minutes at 350 degrees F.